Evapoler is engaged in providing innovative, eco-friendly, energy efficient Industrial air cooling solutions and is run by Professionals from diverse fields. The company is actively managed by Mr. Ramesh Gupta, B.E.( Mech) having 18 years varied industry experience, Mr. Punit Agarwal, B.E. MBA( Marketing) and Mr. Sumit Agarwal, Chartered Accountant (Finance).
EECS has a team of highly qualified and competent professionals that are headed by an experienced management. We have high quality manpower possessing vigor, expertise and skills. We conduct internal induction programs and trainings modules, which facilitate the process of quick career growth. Our dynamic, highly- skilled and enthusiastic team, work really hard to maintain excellence in the services we deliver.
Evapoler Eco Cooling Solution product and control system are design to be used across a wide variety of applications. The efficiency of evaporative cooling is an ideal solution for manufacturing and warehouses due to the size of such spaces. Retail, gym and leisure applications reap the benefits of a fresh air system with the inherent avoidance of recirculated air and harmful refrigerants.
Fresh air cooling is also a great choice for data halls, UPS rooms and smaller communications rooms. Eco cooling is credited with revolutionising the control systems required to use direct evaporativecooling in IT environments.
At Evapoler Eco Cooling Solutions, we tailor our services to client's custom requirements, meeting all their air cooling needs by adapting equipment and designs TO DELIVER COST EFFCTIVE AND ENERGY EFFICIENT SOLUTIONS.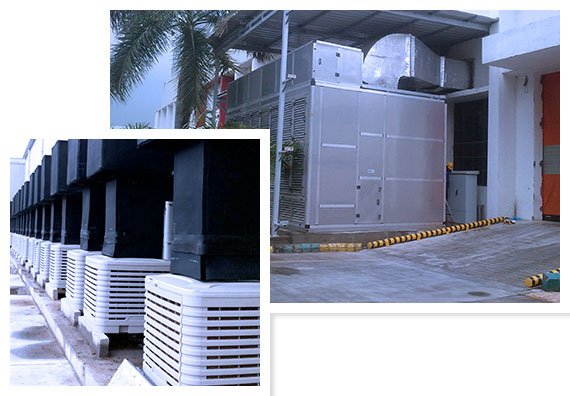 Our Services include
Design and Installation
Service & Repair
Maintenance
Our highly qualified team of engineers with extensive experience and design knowledge ensure that installation and maintenance follow best in class standards.
Our Core Competence
Duct fabrication and design :To avoid delay in duct fabrication at site , we execute lower side work with pre-fabricated ducts which are manufactured on machines at factory. The benefits of pre-fabricated duct over site fabricated are :
1. Low lead time leading to faster project completion.
2. The dimensional accuracy and finish is better.
To execute the work with the Pre-fabricated duct, we require drawing showing layout, elevation and clear dimensions of the building/project. Working with some of the best manufacturers in the world, we can find the system that will best suit your business and requirements and also advise the most economical and environment friendly systems available.
At Evapoler Eco Cooling Solutions, we provide a 12-month warranty and after that, we offer competitive service and maintenance packages.
Design
We offer:
A free survey of your premises to assess requirements
Quality products, design and workmanship at competitive prices
We understand clients' needs very minutely, and then design systems to meet customized requirements and offer the most suitable and cost-effective cooling solutions for full re-fits and upgrades. Designs can be to your exact specifications or you may wish to draw upon our experience to give you the ideal system for you.
Installation
Our highly skilled engineers work alongside our customers to ensure minimal disruption whilst on site installing refrigeration and air conditioning products discreetly at times that fit in with your business hours. Their attention to detail and commitment to customer satisfaction is a key aspect of our work.

Service
We provide a comprehensive support service, making sure your emergencies are handled promptly and effectively by a qualified engineer. To allow us to provide the best service possible, our engineers regularly update their training to stay ahead of current legislation and regulations, ensuring we can always keep you informed of important changes that may affect the way you operate.

Repair
In desperate times of something breaking down, we offer a fast and reliable service, giving you honest and experienced advice. All parts supplied and work carried out are covered by warranties. Our engineers will offer advice on the most economical road to repairing and equipment failures.

Maintenance
Routine maintenance of equipment is often overlooked by many companies, they see the cost of a maintenance contract being a waste of money but at Evapoler Eco Cooling Solutions we believe a periodic service of this equipment can often save thousands of Rupees in replacement parts. A maintenance service once every three or six months, improves the life-span of the equipment and is a cost-effective way of ensuring continuity of use. Annual maintenance Contracts are tailored to suit individual customer's needs and the equipment cover required.
QUALITY POLICY
We are committed to total customer satisfaction by ensuring in time efficient air cooling services at affordable cost with continual improvement in technology and quality management system.
Vision
To Provide innovative, eco-friendly, energy saving and efficient air cooling system /product & services within reach of community at an affordable cost.
Mission
To be a leader in energy efficient and eco friendly air cooling products and services.

Evapoler Eco Cooling Solutions