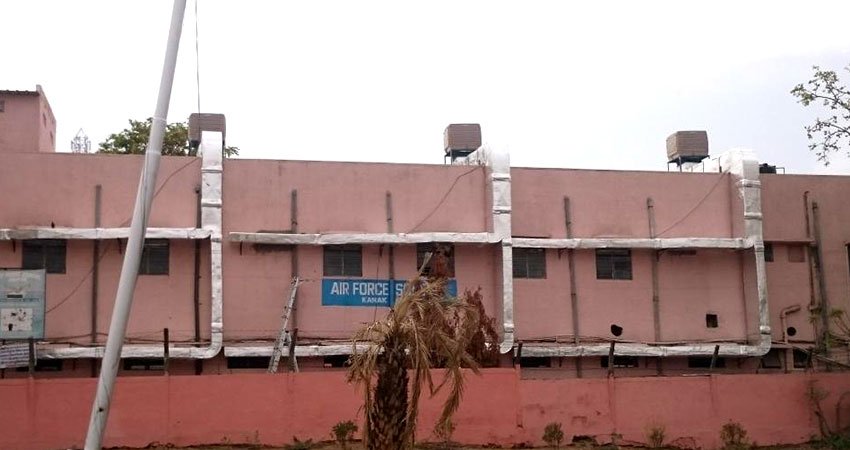 Air Force School enjoys natural air cooling at minimum investment, Air cooling 8000 Sqft of School class rooms in air force school, Amer Road for comfort cooling.
The Client
Air Force School, Amer Road, Jaipur is a prestigious institute in Jaipur, where 800 No. of students from various Places of Rajasthan study.
The Challenge
The School administrator wanted to have comfort cooling solutions for children in school room to provide comfort & save children from uncomfortable environment of scorching heat of summer season when outside temperature goes as high as 45°c. Earlier management wanted to go with split air-conditioners but –the Power Consumption that required was beyond the permissible power availability limits.
Secondly the other apprehension in case of air conditioning was thermal shock. While children move out of air conditioned class room in scorchy sun may face thermal shock. The challenge was to design a cooling system that covered all class rooms of the school while consuming minimum electric power
Highlights
Air Cooled 8800 Sqft Area.
End to end solution from design to Execution, Installation & Commissioning.
Central Cooling System to achieve 90% Cooling Efficiency.
On site Duct fabrication as per custom building requirement.
The Solution
Evapoler Suggested to provide a complete end to end solution from design to execution, installation and commissioning. An energy efficient and effective coolinig solution of placing 08 Nos. of Eva180h Machines was considered.
The Result
Air Force School now have all the rooms air cooled at affordable running cost & minimum possible power consumption. The Electric power load is only 8.8KW as compared to 70KW in case of Air Conditioning. The use of sustainable air cooling technology helps to reduce harmful gas emission as well.