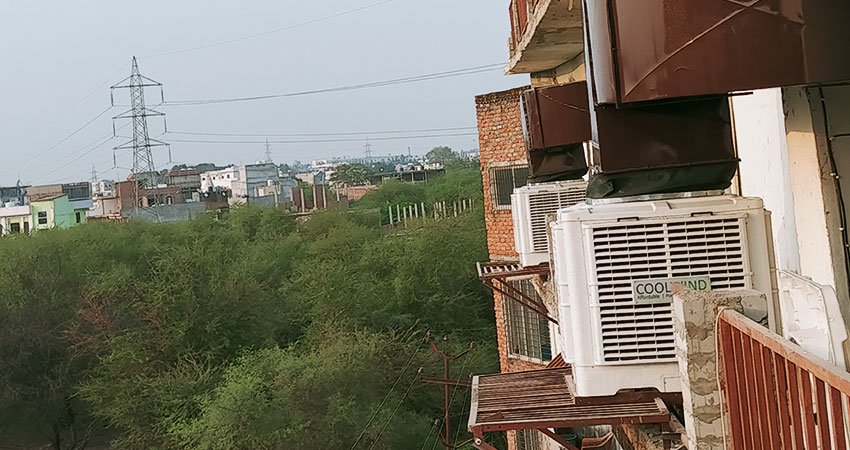 Cosmo House-student Hostel realizes the benefits of Evapoler's Natural Cooling
Background
Cosmo House is a well-known Boy's Hostel at Plot 230/230A, Atif Vihar Colony, Near City Law College, Opp. BBD University, Faizabad Road, Lucknow, Uttar Pradesh.
The Challenge
The Cosmo House Boy's Hostel unit has Third Floor of 2000 Sqft Area. The Hostel owner wanted to ensure his Student and staffs were comfortable, especially during the hot summer months in Lucknow when temperature could reach as high as 42.2°C. The owner initially wanted to go with split air conditioner but seeing the electric load & running cost thereafter started to look for other options of cooling.
The owner was briefed about evaporative cooling system and once he was convinced about benefits like fresh air & low power consumption he decided to go with Evapoler.
Solution
The Evapoler is direct evaporative cooling equipment, which works on nature's evaporative cooling principle with cooling efficiency as high as 90%. 2 Nos. of WIND-180K Machines were installed and the electric load was just 2.2kw as compared to 16.6kw (Air conditioning Load).
Result
The Evapoler machines maintain a temperature difference of 15-20°C between the external and internal temperatures, thus ensuring Cool & comfortable condition on all the work floors throughout the year. An added benefit is that the evapoler machines have reduced the amount of Dust entering to the Hostel Buildingas the machines come with pre-dust filters.
| | |
| --- | --- |
| Area Cooled | 2000 Sqft |
| Application | Boy's Hostel |
| No. of machine installed | 02 Nos. |
| Machine Capacity | 10000 CFM Each |
| Temp. Outside the building | 42.2°C |
| Temp. Inside the building | 27°C |
Installing Evapoler led to savings for Cosmo House& delivery of 100% Fresh & Healthy air for the Students.
Conclusion
The owner is highly satisfied with the solution provided by Evapoler and expressed great satisfaction with the performance of evapoler machines.
Evapoler isinto natural air cooling and have cooled more than 10 million Sqft. with Evapoler Cooling Systems.