Description
Specifications
Model
Air Flow
Fan Size
(MM)
Pad Area
(Sq. Ft)
Motor  Kw
at a Static Pressure
Overall Dimentsions
CHM
CFM
40 MM WG
50 MM WG
LENGTH
WIDTH
HEIGHT
EVA -AWS-50
5000
3000
315 * 1
6
1.1
1.5
1690
1100
970 + 100
EVA-AWS- -85
8500
5000
400 * 1
10
2.2
3.7
1920
1700
970 + 100
EVA-AWS-170
17000
10000
560 * 1
20
3.7
5.5
2300
1700
1590 + 100
EVA-AWS-250
25000
15000
710 * 1
30
5.5
7.5
2600
2000
1890 + 100
EVA-AWS-340
34000
20000
800 * 1
40
7.5
9.3
2900
2620
1890 + 100
EVA AWS-425
42500
25000
900 * 1
50
11.0
15.0
3100
2750
2200 + 100
EVA -AWS-510
51000
30000
1000 * 1
60
11.0
15.0
3300
3300
2240 + 100
EVA- AWS-600
60000
35000
1000 * 1
70
15.0
18.5
3300
3810
2240 + 100
EVA-AWS–680
68000
40000
800 * 2
80
7.5*2
9.3*2
2940
5160
1920 + 100
EVA-AWS-765
76500
45000
800 * 2
90
9.3*2
11.0*2
2940
4850
2240 + 100
EVA -AWS-850
85000
50000
900 * 2
100
9.3*2
11.0*2
3100
5050
2440 + 100
EVA-AWS-1000
1,00,200
60000
1000 * 2
120
11.0*2
15.0*2
3300
5400
2640 + 100
EVA-AWS-1200
1,20,000
70000
1000 * 2
140
15.0*2
18.5*2
3300
5850
2810 + 100
EVA-AWS-1360
1,36,000
80000
1000 * 2
140
18.5*2
22.0*2
3300
6250
2950 + 100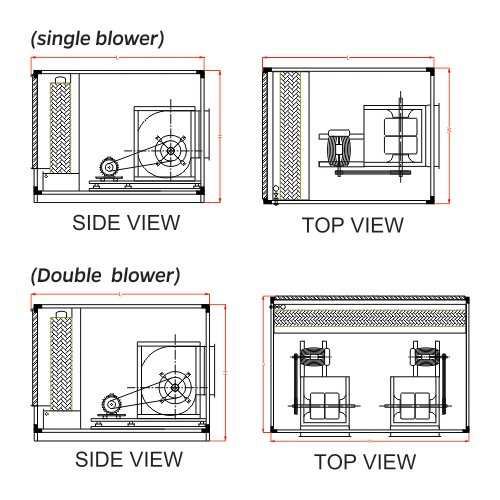 Fan Features
The fans are of international standard and are AMCA certified.
Centrifugal blower forward / backward curved as per static pressure requirements.
The fans are static and dynamically balanced.
Electric Motors
TEFC Squirrel Cage Induction Motor , IP 55 Protected VFD Compatible induction motor of Standard make
siemens/CG/Havells /ABB etc.
Cooling Pads
High quality Evaporative Cooling Pads CELdek-Munters/ Hu-Tek / Eco-Cool make are used for high saturation and
cooling efficiency upto 90%. The Cooling Pad is made of cellulose ( Pulp ) sheet and bonded together in 7mm flute size of 45 deg X 45 deg angle. The Cellulose Pad is cross-corrugated and coated with anti-rot, rigidifying and wetting agent.