Description
Indoor and Outdoor Air Cooler :
Specs/Model
Wonder 35 H
Air Flow (m3/h)
3500
Power (w)
160/150/140
fan type
axial
Fan Speed
3
Noise (dba)
≤ 62
Cover Area(m2)
25-30
Water Tank (l)
45
Water Cosumption (l/h)
3-5
Power Resource(v/hz)
1 ph, 220/50
Control Type
Led + Remote
Net Weight(kg)
28
Gross weight (kg)
32
Dimension (mm)
550 x 408 x 1665
Packed Size (mm)
580 x 466 x 1720
Pad Size (mm)
(775+30) x 445 x 100; 1 pc
Swing
Auto Left/right;

Manual Up Down

Water Inlet
Automatic
Pre-dust Filter
Yes
Pump protection
Yes
Temperature Display
yes
Ionizer
yes
Highest efficiency natural cooling by water evaporation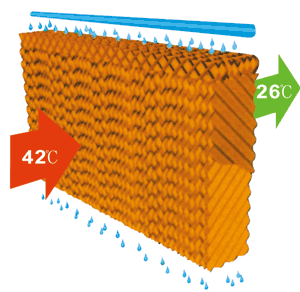 Working principle
Nature's most efficient means of cooling is through the evaporation of water. Evaporative cooling works on the principle of heat absorption by moisture evaporation. It also happens on human skin, the body sweat to cool the temperature down.
Evaporative cooler produces effective cooling by combining the natural process water evaporation with a simple, reliable air moving system. Fresh outside air is filtered through the saturated evaporative media, cooled by evaporation, and circulated by a blower.
Advantages of evaporative air cooling

Low carbon green product, environmentally friendly,no CFC'S, no damage to the Ozone layer.

Super energy-saving, only cost 1/10 electricity than air con
Less than 1/2 the price of air conditioning
Vent cooling, no air re-circulation.