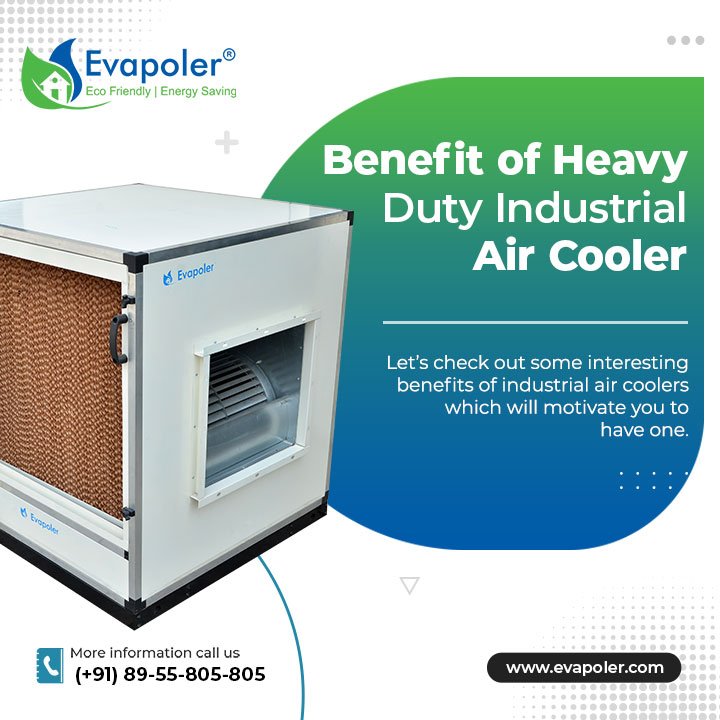 In this hot humid climate. It is quite difficult to work specially for the industrial people and if we look for a solution to this problem then for all industrial and commercial areas industrial air coolers are energy efficient air cooling systems. As to provide a comfortable working environment for the employees, management used to install the best cooling systems in their working areas. Installing an industrial air cooler is a practical solution for semi-opened, opened, closed working areas. These coolers work on a simple principle (i.e) evaporation. Through this the cool and fresh air circulates and through away the hot, impurity and odour air outside and makes a comfortable environment for working.
If we discuss its placement then it is usually placed in showrooms, factories, workshops, warehouses etc. With modern age you will find numerous featured industrial air coolers. Not only this you can customise it as per your place requirement.
Let's check out some interesting benefits of industrial air coolers which will motivate you to have one.
Consumes Less Electricity:
The biggest concern for installing an air cooling system is it consumes high electricity which will increase expenditure for an industry. Also no one wants to increase their expenditure. So, they used to avoid installing one at their place. To bring a solution for this problem now heavy duty industrial air coolers are available in the market which consumes less energy. From the research study it is found that as compared to A/C industrial air coolers consume 90% less electricity which is a benefit in installing industrial air coolers.
Needs Low Maintenance:
Another reason why people avoid installing an industrial air cooler is their maintenance which is time consuming and costly. But with the latest technology coolers who work on evaporation process needs very low maintenance and that too with very low pricing. As industrial air coolers come with very few parts and mechanical components which are not costly to replace or get repaired (i.e) it has low maintenance and service cost.
Staff Morale Improves:
For an employee the most important thing is its working environment and the work which they are doing. If both these things are good then it motivates them to focus and gives productive results to their workplaces. But do you think that in this hot summer it is convenient and motivating for your employees to work if the working area temperature is not appropriate. It will demotivate your employees and their working capacity will also decrease. So, why not install an industrial air cooler which is budgetable, affordable, and convenient for your employees. This will increase their morale and motivate them to stay and work for longer hours if needed.
Productivity Improvement:
An influx of fresh, clean and cool air ensures a convenient and comfortable working environment for your workers and employees that will result in boosting productivity which results in a profitable business. Just by installing an industrial air cooler your work is done as it is less expensive than air conditioners. Also with numerous features and design options you can have one which suits your place.
Payback Period is Low:
In industrial air coolers the consumption of electricity is very low as compared to air conditioners. For industry people it is beneficial to install one because it consumes less electricity and less consumption of electricity means it is going to reduce your overheads cost. Not only this your installation cost will also get recovered as it is a low maintenance cooling system. So, basically once you install an industrial air cooler your major concerns are solved.
Final Words:
Now you got the idea about what an industrial air cooler and what are the benefits of installing an industrial air cooler. Don't think much as compared to air conditioners, it is beneficial in every way. There are numerous benefits for installing an industrial air cooler. Not only it save your cost and provide cool air but now the coolers come with an eco-friendly model which works on the evaporation process which is healthy for your health.
Based on your budget and requirement you can purchase one and provide fresh, cool and clean air to your industrial workers and employers. This summer gives your staff a fresh air environment to get motivation to work on hot sunny days.
We at Evapoler are the best sellers of heavy duty industrial air coolers. Based on your requirement will provide you the best industrial air cooler. Contact us for more information.