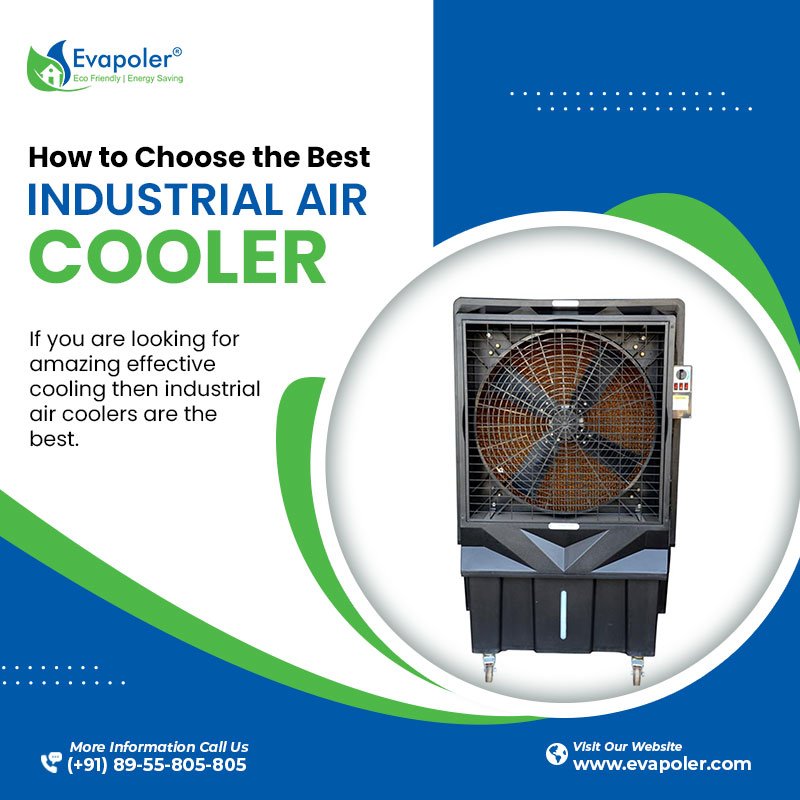 If you are looking for amazing effective cooling then industrial air coolers are the best. A lot of working spaces like manufacturing industries, factories, warehouses, workshops, garages, athletic events, manufacturing plants, and many more use this industrial air cooler for powerful cooling. This is a cost-effective solution for dry climate places.
Industrial air coolers are not just like huge fans or other simple desert coolers but they are more powerful in air throw capacity and its built. Industrial air coolers are more effective and eco-friendly. They work like the natural process of evaporating water.
Don't get confused if you hear Industrial Swamp Cooler and Industrial Evaporative Cooler as they are also known as Industrial air coolers. All three have the same function of cooling in huge area-covered places.
Selecting the best industrial air cooler for your place is quite complicated as there are wide varieties available in the market. By reading this article you will get the idea about industrial air coolers and based on this you can make your decision.
Industrial Portable Air Coolers
It is a standing type air cooler with large size cooling pads on back. It has powerful industrial grade motor and top of it -all of these come with three speeds. These are better cooling options for dryer climates. It is also known as a Portable Evaporative cooler. This type of coolers is used in garages, warehouses, manufacturing units, banquet halls, marriage gardens etc. Its air flow capacity usually goes up to 18000 CMH. A mobile air cooler uses less energy. That is it consumes less electricity and as such operating cost is quite low.
Nowadays many people prefer to purchase this Industrial portable air cooler, as they are more cost-effective and eco-friendly than air conditioners.
Ducted Air Coolers
Ducted air coolers larger in size and air throw capacity is from 10000 CMH to 30000 CMH. They are made for huge commercial and industrial areas. The cooler includes 3 types (i.e) a top throw, a side discharge cooler, and a down discharge cooler. The down discharge cooler is placed on roofs and releases the cool air downside whereas the side discharge coolers can be placed at the sides of the buildings or on the roof.
The supply of air coolers goes up to 30,000m3/h per unit. By air direction the range of installed air coolers is decided.
As per your requirements, you can choose one of the industrial air coolers you want for your place. Now you got the idea to differentiate which type of industrial air cooler is best for you. But based on types you can't make your decision right! There are many other points that a person keeps in mind before purchasing an industrial air cooler. So, now let's read about the important things you should consider before buying the best industrial cooler.
Important Things to be Considered
As industrial plants have to keep many things into consideration like the performance of the machine, the environment of the industry remains well-maintained and safe, and many more. As there are many features available in industrial air coolers. Based on our research we have shortlisted four main features that a buyer should keep in priority.
Case Thickness and Material
Industrial air coolers are made up of fresh or recycled material. The life span of the fresh material industrial air coolers is approx 10 years but the lifespan of recycled material coolers is less as after 2-3 years some problems started in the coolers. Along with the material the thickness should be more. So we will always suggest the industrial air cooler made up of fresh material with a thicker quality.
Cooling Pad System
Based on the size and the thickness the right cooling pad is needed because it will help the industrial cooler to function effectively. As said for the industrial air coolers the bigger the cooling pad is, the better the performance of cooling will be there.
Type of material used for Motor winding
For well-working and effective running, the best suited industrial air cooler is the one that is made up of 100% copper wiring. As to make it cost-effective some manufacturers use aluminum for wiring motors but in the end, the quality of the industrial air coolers will decrease. So one must prefer the motor with copper windings.
Airflow Volume
The must checkable point is the volume of airflow because there are suppliers who say higher value than the specification which is written on the sheet. This is just misleading, so make sure you check this, or else you will buy an industrial air cooler that doesn't meet your requirements.
As we have read about industrial air coolers their types and what are the main things to be considered but it doesn't end here there are other individual factors as well like which brand and module you should choose, the one which matches your budget, the one which has perfect size as per your industry, after-sales service and many more. By considering all things, make the right choice.