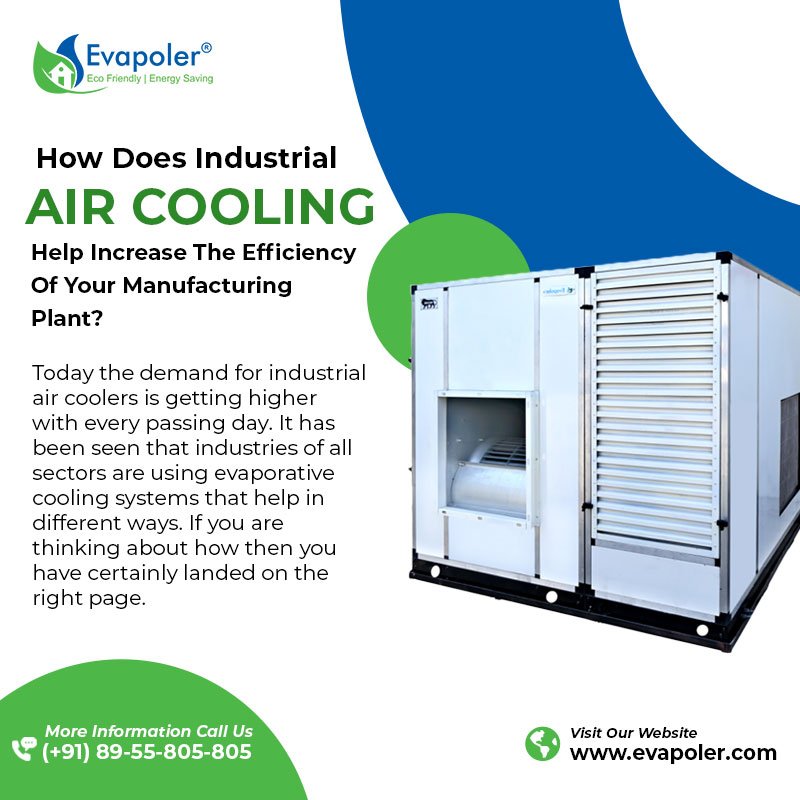 Today the demand for industrial air coolers is getting higher with every passing day. It has been seen that industries of all sectors are using evaporative cooling systems that help in different ways. If you are thinking about how then you have certainly landed on the right page. We are here to help you with the guide on how industrial cooling systems can enhance the efficiency of the manufacturing plants in different ways.
Evaporative cooling has already become one of the best alternatives to conventional air conditioning systems. If you are thinking about how it is going to help your manufacturing plant, then take a look at the below mentioned pointers:
Energy efficiency: The first and the primary benefit that your manufacturing plant is going to avail with the help of an industrial air cooler is saving energy significantly. The operating costs of the evaporative coolers are very low when compared to all the air cooling systems. So, if you are looking for cost-effective industrial air cooling systems, then there can not be any better option than evaporative coolers. It comes with a perfectly designed evaporative cooling solution that is customized as per your given specifications. This design can help you save up to 80% of the electricity costs in comparison to mechanical air conditioning. How good is that?
Fresh air: The next advantage that comes with evaporative cooling systems is that the air coming out of the system is fresh and hygienic. Poor air quality can get the health condition of your manufacturing plant down. So, it is important that you look into this situation, or else your productivity might get hurt. Fortunately, there is a way, and it is none other than an evaporative
cooling system that can help you get your manufacturing plant filled with fresh air that literally reduces any chances of air pollution. It results in Improved air quality.So, all your employees remain fit and healthy and help you with better productivity as well.
Doors And Windows Can Remain Open: Another major advantage that you avail with an industrial air cooling system is that you don't have to shut your doors and windows like other air conditioners. Industrial evaporative coolers constantly need airflow to function and provide cool and fresh air. So, when you open your doors and windows, the system works even better and helps your business to reduce any kind of risks that are associated in terms of contamination.
Reduced costs: As stated, with the installation of evaporative air coolers, you can save upto 80% on your electricity every single year. But, there is an even bigger advantage of getting this industrial cooler installed in your system, and that is in the form of low capital investment charges. When compared to the traditional ones, these units are priced very low. This means that buying this device can certainly reduce your expenses and also cut down any kind of maintenance or repair-related charges. When it comes to charges, it completely depends on the given specifications and the kind of evaporative system you are going to purchase.
Environmentally friendly: The last but the biggest advantage of installing this type of system is that it promotes sustainability. It is very environmentally friendly. It reduces contamination, provides fresh air, consumes less electricity, and ensures that employees do not have to suffer from poor health because of the air pollution in the manufacturing arena. This shows how this system can help your manufacturing business to build a reputation for itself among the client base and community by following the sustainable route through evaporative cooling systems.
Conclusion
These are the reasons why you must not hesitate and get an industrial air cooling system installed in your manufacturing plant. If you are looking for a reliable company to help you with your needs for industrial air cooling systems, then do not hesitate and consider connecting with the experts at Evapoler. You get the best systems ready as per your custom needs and requirements. Get connected now!