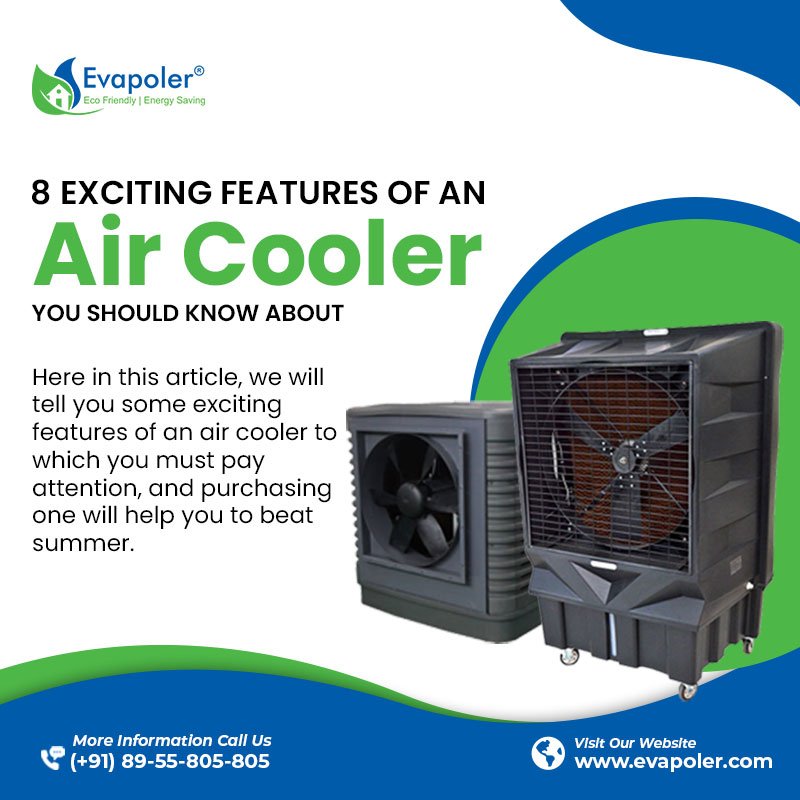 As phones are getting updated so do the air cool industrial, from the past few years we are seeing many significant transformations in the air cooler. Now air coolers are not restricted to dissipating heat and cooling. With the advanced features of the air cooler, you will get clean, healthy, and fresh air. Today's modern-day cooler has various advanced features that make them an excellent choice to buy.
To beat the heat and maintain cooling in your room you can easily invest in an air cooler. The best thing about air coolers is that they are cheaper than an air conditioner and can easily relocates inside your premises as per your needs and with their various ranges people can easily afford them. But if you are looking for a modern featured air cool system then it is going to be costly. Also, they are portable so, you can move them from one room to another without any headache.
Here in this article, we will tell you some exciting features of an air cooler to which you must pay attention, and purchasing one will help you to beat summer.
Air Cooler With Autofill Feature
Filling water in an air cool system is the first reason why people think twice to purchase an air cooler. But as the technology changes the new air cooler has come up with the autofill feature. Now you dont have to worry again and again about filling water. What you have to do is to connect it with a proper tab in which the flow of water is appropriate.
Air Cooler with Dust Filters and Mosquito Net
Another reason for not buying the air cooler was the air was not pure and we had to keep the cooler in the open area due to which mosquito bite problem was there. But for this type of air cooler, industrial people have developed advanced features that the cooler is equipped with dust, mosquito, and many more features to ensure that you get fresh and clean air. Also with these features, the life span of the cooler will increase as many insects and mosquitoes are used to damage them.
Air Cooler with Touch Control Button
The significant comparison between an air cooler and an air conditioner is the controlling system(i.e) with a remote you can easily control the air conditioner features and due to which you have not to stand again and again. To solve this type of issue in a cooler the air coll industry has come up with wifi connection. Now for air coolers, you dont have to worry you can easily operate them by phone app or remotes.
Air Cooler With 2.5 PM Filter
This 2.5 PM filter is an effective feature that is used to control air pollution. As there is a continuous rise in pollutants and global warming so you should not take any risks. You should look for such devices which are having 2.5 PM feature. This will keep your surroundings clean. Some coolers have a 2.5 PM feature.
Air cooler with auto drain facility
The most cumbersome process is draining dirty and old water. The air cool Industrieshaves come up with auto drain functions which have solved this issue. With this benefit, you can automatically drain water from the cooler.
Air cooler with an overload protection of motor
Usually, people used to avoid purchasing a cooler because of changing motor as they used to get damaged frequently. So, now the new version of the cooler has come up with overload protection of the motor which is a safety check that prevents the motor of the air cooler from getting damaged. As it will protect the cooler when the water is finished or a sudden cut of electricity.
Air cooler with google assistant and Alexa
As the technology is updating and becoming interesting so here with the air cooler, the interesting update is that they support google assistant and Alexa. Now you can control your air cooler with voice commands.
Air Cooler With WiFi Connectivity Features
There were days when we had to manually use the electrical device. All-electric things like air coolers, air conditioners, and ceiling fans are coming with smart features and WiFi connectivity. Now with this feature, you can easily control cooling capacity by just operating with the app. This feature gives facilities to operate the device from anywhere.
New technology is been discovered every day. As we have discussed some of the features but the air cooler is not restricted to these features there are many more features available in the air cooler. From auto-fill to auto drain all the features will help to increase the life span of the air cooler. We at Evapoler are dealing with various featured air coolers. If you are looking for a perfect air cooler for your home then call us now for more information.