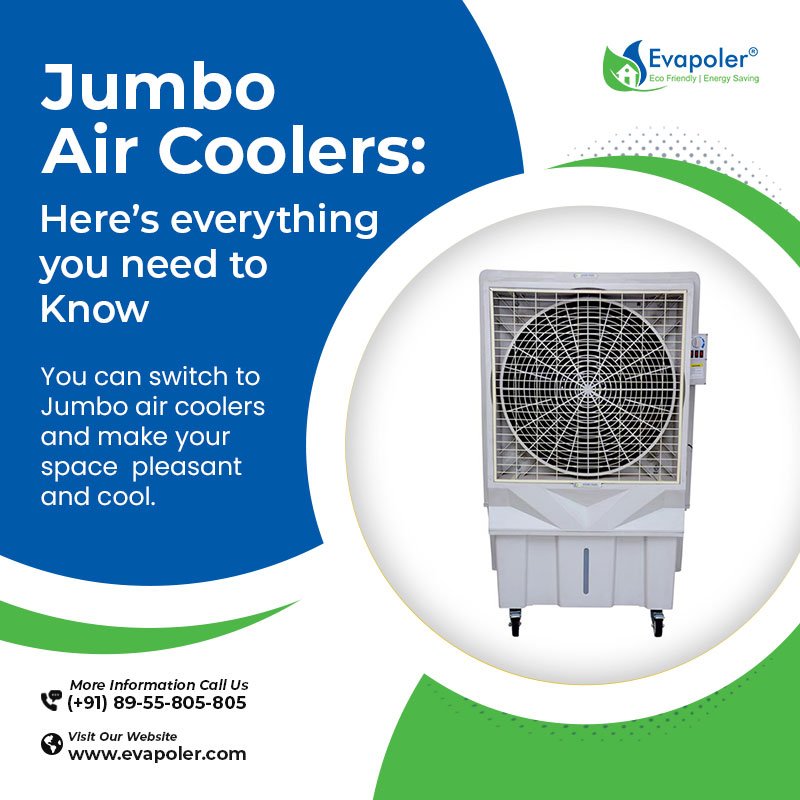 Do you want to cool space and beat summer weather? Do you focus on the best appliance to manage superior cooling effects on a property? Of course, you can switch to Jumbo air coolers and make your space pleasant and cool. Air coolers are a suitable asset instead of an air conditioner. You can use separate air coolers for residential and commercial property. It works well in different areas such as manufacturing industries,production floors, commercial buildings, offices, institutions, hostels, and more. A cooler is a necessary appliance during hot months and allows people to beat hot weather easily.
If you wish to use an ideal cooler in your factory or shop floor , you can speak with a reputable manufacturer today and get a quote.
You can pick up an air cooler with impressive technology and high-quality and reliable performance at a reasonable cost.
It is an excellent solution for people to stay relaxed and calm during summer.
People demand jumbo coolers for large water tank capacity, more cooling padarea , and smooth air movement.
These are the main attributes of cooling large areas.
Users discover high-performance when adding it to industrial and commercial premises and suit dry and hot weather conditions.
Why air coolers are popular:
People wish to use an air cooler on the property rather than an air conditioner due to cost-saving and feeling fresh air movement. When buying an air conditioner, you need to spend enough amount of money. When it comes to an air cooler, you can pay a decent amount and pick up the ideal appliance for cooling needs. Based on your request, professionals provide the unit with impressive attributes. You can manage hot weather by using Jumbo air coolers.
You can get a cooler with an effective Cellulose made cooling pad responsible for the cooling. It consumes low power to cool the sapce space. You should open windows and doors to explore significant cooling effects on the property. The pump can design as per the latest technology standard that prolongs life. Users feel excellent performance, air throw, and cool the space completely.
Attributes of air cooler:
Before buying a cooling unit, people must check attributes. Based on a feature, you can get the idea to choose the suitable model that fits the budget.
Powerful fan:
Cooler features a powerful fan that delivers excellent air throws and reliable performance. Fan withvariable speed motor and automatic swing provides effective cooling to overall space.
Large water tank:
Water tank capacity is the most crucial consideration among people. Large water tanks obviates the need to feel air cooler with water frequently . water level indicatorindicates to users when it requires refilling.
Perform well on inverters:
The energy-efficient cooler also performs better and delivers maximum cooling. It may be compatible with the inverter.
Efficient pump:
The air cooler comes with an energy-efficient pump that design according to immersive pump technology. It brings the uniform water flow and long-lasting life.
Cooling media:
Excellent water distributor is a great media that lets the water distribute evenly on different sides and helps people feel an increasing cooling experience.