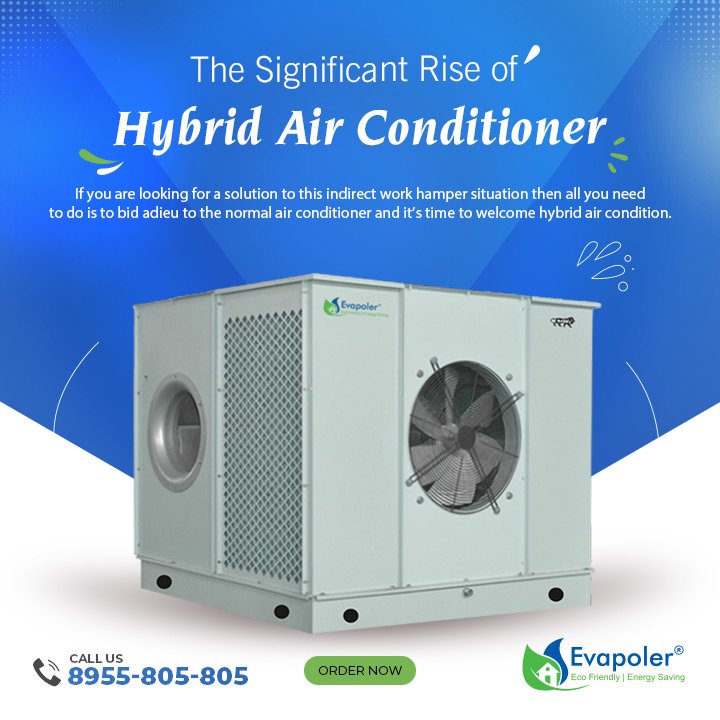 The manufacturing industry suffers from big losses even if there is a loss of an hour's work. The employees and machines working all day and night also suffer damage that can certainly bring down productivity a lot more. So, the time has come where the approach and atmosphere need to be changed and made friendly for both humans and machines.
Continuous work, hot and humid temperatures, and poor breathing space can certainly take a toll on many employees. This can result in the form of loss of resources and eventually work. So, if you are looking for a solution to this indirect work hamper situation then all you need to do is to bid adieu to the normal air conditioner and it's time to welcome hybrid air condition.
What is a Hybrid Air Conditioner?
When it comes to Hybrid air cooling systems, it is basically an advanced technology in the world of air conditioning that will give you and your resources all the comfort they deserve to serve you with excellent results. It perfectly tackles all the hurdles and ensures that there is no dramatic impact on your production. In fact, there is a high probability of it getting better and better with time.
There are a number of features attached to this system that is responsible for such significant improvements. If you are thinking how then below mentioned are the attributes you get with the installation of Hybrid air coolers, check it out:
Firstly, the biggest benefit you will be getting with this move is saving money big time. With electricity costs down by 60 percent, your company will certainly be saving a huge sum of money that can help your business to even further improvements and growth.
Secondly, you will be able to save your resources from going down because of the poor air quality. These hybrid air coolers will help you with 100percent healthy and fresh air that will keep all the employees healthy and eventually enhance the productivity numbers as well.
Thirdly, the cooling feature of this system is more than sensational. Even the biggest of machines working on your plant will not get heated when this device is running. It will keep the workflow going and help your business to take the lead.
These are the reasons why the demand for hybrid air cooling systems has gone high and there are a number of companies now claiming to provide the best of solutions. If you are looking for a reliable company to help you with your needs for a hybrid air conditioner then all you need to do is to knock on the doors of Evapoler now! You will certainly not feel disappointed in terms of quality and charges! Contact now!