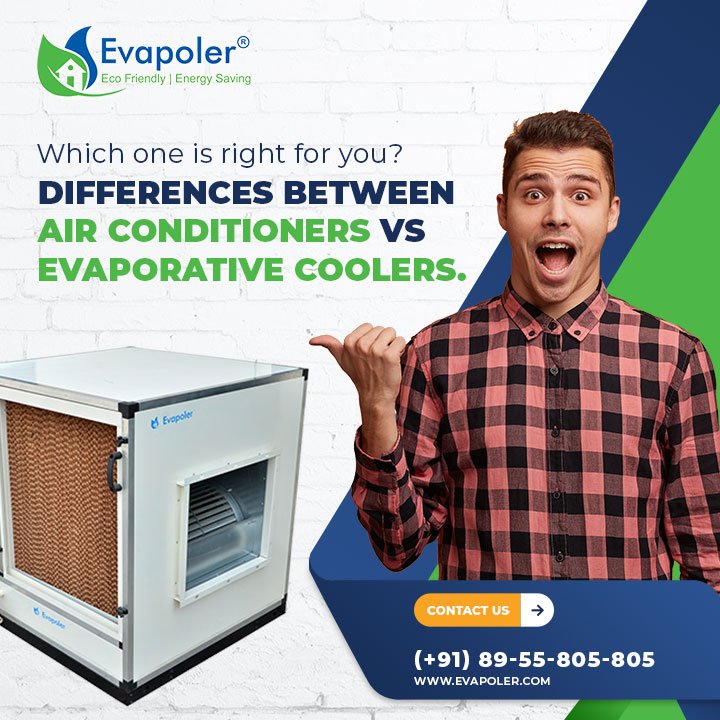 When it comes to cooling systems and applications, every single machine comes with its set of advantages. Now people are looking for machines that can help them curb their utility charges, save energy resources, and also remain eco-friendly. But, traditional cooling systems are not helping them with the respective properties.
It has been seen that the cooling systems are not being able to assist millions of workers who are providing services in different industries that include automotive, industrial, construction, agricultural, and more. The workers in these industries are exposed to huge amounts of heat stress every single day. But, all of them do deserve a comfortable and safe environment and this will certainly lead to better work productivity as well.
Evaporative Cooler and Air Conditioner: Difference In Detail
Air Conditioner
When it comes to air conditioners, it is used in the form of refrigerants to expel the moisture and heat from the respective space. These machines use fans so that they can use the conditioned air to enhance the indoor air quality and thermal comfort of that particular space. They are basically ducted and fixed systems that need bi-yearly maintenance by professionals to function exceptionally.
It is basically a system where coils will cool the air through chemical procedures that remove the moisture and heat through dissipation outdoors. These machines are operating at their best in the enclosed environments and it will eventually reduce the room temperature to the select temperature heedless of what the outdoor condition is. But there is a draw as well that comes with these systems and that is it requires thousands of money to get purchase and set up done with convenience.
Evaporative Cooler
When it comes to evaporative coolers, things are completely opposite when compared with traditional air conditions. It is also acknowledged as desert coolers or swamp coolers and will need fewer materials to function in terms of electricity and water. It doesn't require much maintenance compared to traditional ones, so it will help you save a lot over a long period of time.
Another fascinating aspect that you get with evaporative air coolers is that you will not need enclosed environments. So, it becomes a perfect option for manufacturers where stress heat is a lot more compared to other places. It will not only keep the place in a good atmosphere but also it will enhance the air quality. This will keep the employee's health in good condition and eventually boost productivity as well.
So, it is a great option for industries and companies where more open spaces are used for work operation. It will keep the space in good condition and most importantly will not cost you a lot as well.
Which one is right for you?
Hopefully, you are clear about both the devices. Evaporative air systems have to be your top choice if you are looking for air coolers. It will not only save you a lot but also help you with effective results. It is eco-friendly and will perfectly serve your purpose. If you are looking for a reliable company to assist you with evaporative air coolers then you can always reach out to Evapolers. You will surely be entertained with the best of products.