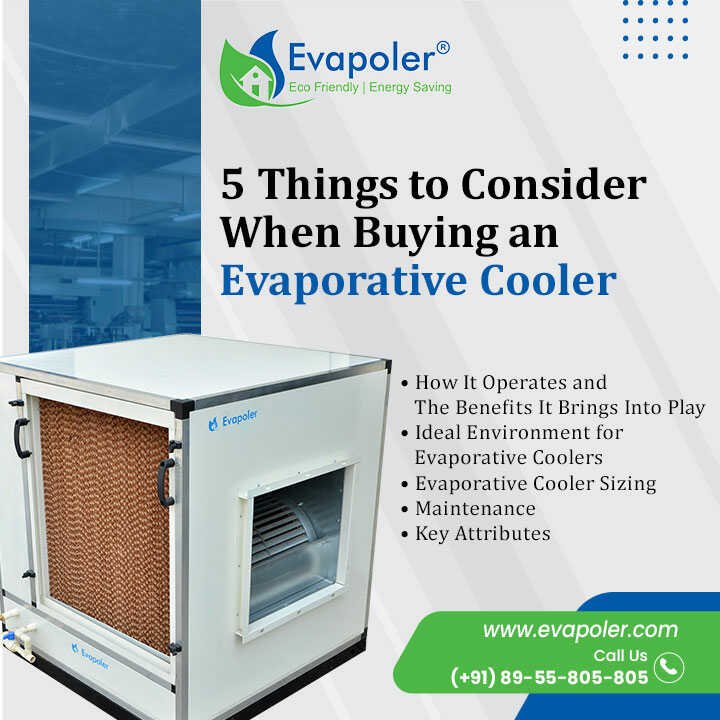 When it comes to evaporative coolers, it is also acknowledged as swamp coolers are highly acclaimed in the business when it comes to providing eco-friendly cooling. Not only this, but it is also considered as one of the most affordable ways to cool indoors and outdoor spaces. This is why businesses and industries around are looking for evaporative coolers that can help them quickly cool down their spaces without costing them anything extra.
But, it is important that you do a brief research about these industrial air coolers before making a purchase. If you are doing the same then we are here to assist you with the same. Below mentioned are a few of the aspects that you must check with while looking for ideal evaporative coolers, check it out:
How It Operates And The Benefits It Brings Into Play
When it comes to evaporative air coolers, it is using a natural procedure to cool air. The process of evaporation works out well to help you with the chill. The fan absorbs warm air and then passes it through the cooling pad. The best part is that you will not have to close doors and windows for it. In fact, it will work well if the doors are open. Take a look at the benefits it brings into play:
Cost-Effective: When it comes to evaporative air coolers, they are only using a fan, water, and pump for cooling. So, there will be no extra charges for you to stress about like traditional air conditions as they use refrigerants and compressors that literally increase bills.
Portable Design: The best part about evaporative coolers is that it is designed to be used in challenging conditions like garages, warehouses, garages, and various other industries. It is very easy to carry and heavy-duty wheels make it easy to roll them into different places.
Transformed to Commercial-Grade Fan: The respective evaporative coolers can easily double in the form of a heavy-duty fan outside or indoors when it is taken into consideration without the use of water.
Infuses Moisture to Air: Another major benefit that you get with an evaporative cooler is that it will naturally humidify dry air. So, you will stay away from all kinds of issues like itchy eyes, skin, and throat when the climate is more on the dry side.
Ideal Environment for Evaporative Coolers
While purchasing evaporative coolers you need to be clear about the performance they will be giving in different environments. Generally, swamp coolers will assist you with a lot more effective and efficient cooling solutions when taken into consideration in semi-outdoor or just outdoor spaces. You can also use the respective machine indoors if located in dry and warm conditions.
Outdoor Applications
As stated above, evaporative coolers are just a perfect option for outdoor cooling needs and that too in any environment. They will help you relish the best of cooling as and when you plug them in and get the water rolling.
Semi-Outdoor Applications
You can also avail the best results out of evaporative coolers while using them in semi-outdoor spaces heedless of what the environment and climate are. The immediate cooling and heavy-duty designs make it perfect for areas like garages or a retail outlet.
Indoor Applications
If you are located amidst very hot and dry conditions, then you can consider using evaporative coolers as they will give you the best results. But, if you are in a humid location then opting for evaporative coolers will not be a wise option for your indoor space.
Evaporative Cooler Sizing
You must always consider checking with evaporative cooler sizing before purchasing them for your space. The area of your space needs the correct size of the evaporative cooler where it can get the best results out of it. So, you can always connect with the experts who will guide you with the evaporative cooler sizing according to the area of the space. It is important that you always check with this aspect because if the machine is not purchased according to the area then there is a huge probability that it might not work efficiently.
You need to make sure that the evaporative water cooler is not too small for your space or else it will have to work a lot harder to keep your place cool and thus, in the process it will be wasting a lot of energy. You will have to invest more bucks in its maintenance as well. So, you need to make sure that you are purchasing your evaporative cooler of the right size just according to the area you might be using in.
Maintenance
One of the most fascinating aspects related to evaporative coolers is that they are very low maintenance when compared to all the other choices. But, it is important that you keep the below-mentioned aspects in mind to keep your device running in good conditions, check it out:
Basic Maintenance
You need to periodically wipe the outer housing of your evaporative coolers with the use of a damp cloth. It will surely enhance the performance of your machine.
Cooling Media Maintenance
You need to keep on checking with the cooling media on a regular basis. It needs to be cleaned once a month with the use of mild detergent and lukewarm water. This will keep all the dust and dirt at bay. After a while, you might eventually need to replace the media to keep your device running excellently.
Periodical Shut Down
If you have finished using the respective evaporative cooler for particular seasons, all you need to do is to drain the water line and tank. You need to get the water line disconnected and get your cooler covered. Shut down the system until you need it again.
Key Attributes
If you compare the traditional air coolers with evaporative coolers, you will find designs almost similar but there are few differences that actually make an impact, take a look:
Continuous Use: When it comes to evaporative coolers, it comes with a hose hook up that makes it good enough to run continuously. All you need to do is to connect the hose for cool air according to your specific needs. So, if you need to run your evaporative coolers for a long duration, go with the ones with hose hook up.
Oscillating Louvers: There are many who are in need of evaporative coolers that can spread cool all across the wide arena. So, you need to look for a model that will be infused with oscillating louvers to help your machine move air from one side to another.
Casters: You must consider going for evaporative coolers infused with casters to get it relocated with ease from one place to another especially during the off-season.
Wrapping
So, these are a few of the things that you can consider while looking for an evaporative cooler. It will help you get the best results out of it. If you are looking for a reliable company to help you with the same then you can always consider going for Evapoler and avail the best range of evaporative coolers that will fulfill all your needs exactly the way you wanted.