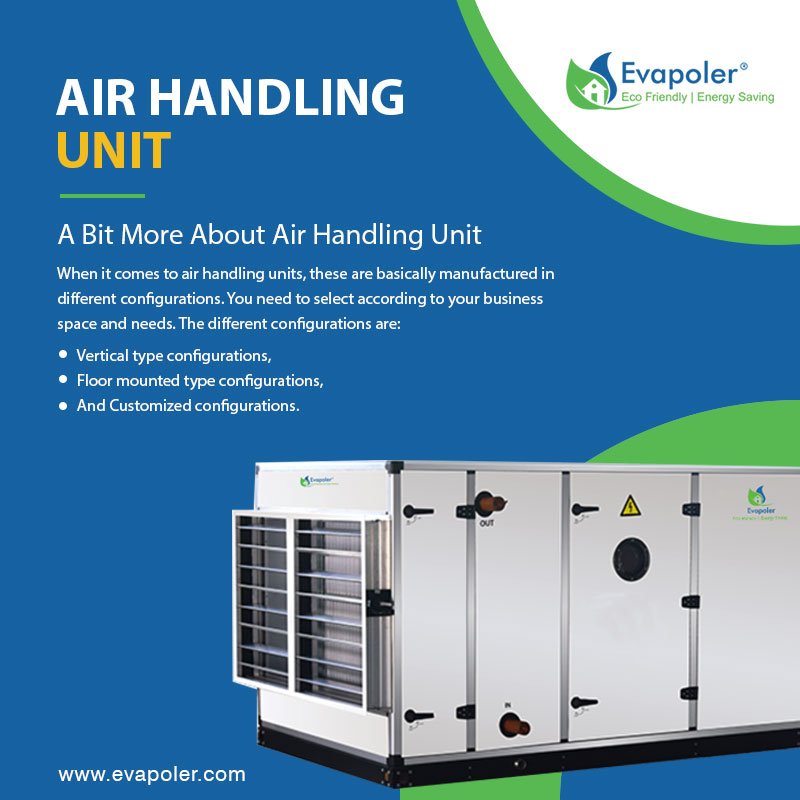 Leading AHU Manufacturer in India: Providing Superior Air Handling Solutions
Are you looking for an air-handling unit to enhance the cooling system of your business space?
When it comes to ensuring clean, fresh, and well-conditioned air for various commercial, industrial, and institutional spaces, Air Handling Units (AHUs) play a crucial role. One name stands out as a pioneer in manufacturing high-quality AHUs –Evapoler, the leading AHU manufacturer in India.
A Bit More About Air Handling Unit
When it comes to air handling units, these are manufactured in different configurations. You need to select according to your business space and needs. The different configurations are:
Vertical type configurations,
Floor-mounted type configurations,
And Customized configurations.
So, if you connect with the right AHU manufacturer, you will surely get the right product for your needs and exclusively enhance the productivity of your space. But, yes, it is very important that you never compromise with the product quality.
This is why you must make sure to do a quality check of the product and then press the buy button. You can do the same by knowing about the design and raw materials that have been taken into consideration. This will certainly give you clarity about how good the product is and will it be perfect enough for you to have installed in your office space.
Ideal Air Handling Unit
When it comes to the Air handling unit, it is basically manufactured both with or without a thermal break profile. So, you need to let the AHU manufacturers know how you want your 25 mm puff insulated double skin. It can be with and also without the thermal break profile. You can also have AHU units available both in single tier and also in two tiers. So, it completely depends on your business space when it comes to choosing the tier of the product while making a purchase.
Above all, it is very important that you look for a reliable AHU manufacturer and avail the best quality product for yourself as per your specific configuration.
What Makes Evapoler The Right Company?
If you are looking for an exceptional quality air handling unit and that too at very competitive pricing then surely there is none better than Evapoler in the industry. You can always reach out to them and avail top standard products known for durability. So, you can be certain that you will be getting complete value for money service with them.
Customized AHU Solutions
One of the key strengths our is ability to provide customized AHU solutions to meet the specific requirements of different industries. Whether it's a large-scale industrial facility, a commercial building, or a specialized institution, our team of skilled engineers and designers can create AHUs that perfectly match the needs of the space.
Energy Efficiency and Sustainability
As a responsible AHU manufacturer, we are committed to sustainability and energy efficiency. Our AHUs are designed to optimize energy consumption, thus reducing the overall environmental impact while also providing cost savings to their clients.
Comprehensive Range of AHUs
We offer a comprehensive range of AHUs, catering to various air volume and filtration requirements. From compact and modular AHUs suitable for smaller spaces to large capacity units for vast industrial setups, we have a solution for every need.
Robust and Durable Build
Durability is a hallmark of Evapoler's AHUs. we utilize premium-grade materials and components that ensure longevity, even in demanding operating conditions. This reliability ensures that our AHUs require minimal maintenance, leading to further cost-effectiveness for their customers.
Compliance with Industry Standards
With a special focus on quality and safety, Evapolar ensures that all AHUs comply with relevant industry standards and regulations. This dedication towards excellence has earned us the trust and recognition of clients across various sectors.
Prompt Customer Support
We take pride in providing excellent customer support. Our team of experienced professionals is readily available to address any queries, offer technical assistance, and provide timely maintenance services.
Partnering for Clean and Healthy Air
By choosing Evapoler as an AHU manufacturer, businesses and institutions in India are making a conscious decision to promote clean and healthy indoor air quality. The well-designed AHUs ensure proper ventilation, temperature control, and humidity regulation, thereby creating a comfortable and productive environment for occupants.
This is why you must not make it late and connect with Evapoler now to enhance the quality of your office air with the assistance of the air handling unit! Contact now!