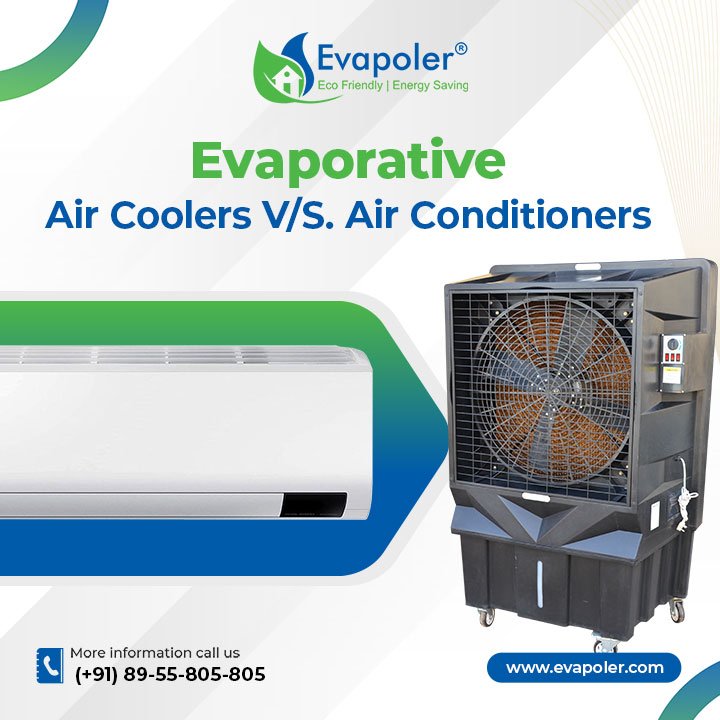 During summers our main concern is to make our rooms, home inside temperature chilled. So, after a long day in hot summer you can have some time to relax with a free and calm mind and more of a chilled atmosphere. Just by reading this you have somehow imagined yourself in the chilled room and enjoying your favourite time or things. Let's thank technology which has given us a solution to beat these hot summer days. With numerous options in features, price, size, etc. You can have one for your home. Majorly you will find two types of cooling systems in the market that are evaporative air coolers and air conditioners.
Evaporative Air Coolers:
Swamp coolers is the other name for evaporative air coolers. By the name we can understand that it works with the process of evaporation of water. In this cooling system only few materials are required to operate it, that is electricity and water. The best part about evaporative air coolers is with the help of water they cool your area naturally as these evaporative air coolers do not produce any kind of spray water, mist or fog.
Types of Evaporative Air Cooler:
It totally depends on your needs and requirements market is fulll with option and every year cooling system has its variations in evaporative air coolers you will see many types but among all the top three are:
Direct Evaporative Air Coolers
Indirect Evaporative Air Coolers
Mounted Draft Air Coolers
Some other types of evaporative air coolers are:
Portable Evaporative Air Coolers
Two Stage Evaporative Air Coolers
Ducted Evaporative Air Coolers
2 in 1 Evaporative Air Cooler
Air Conditioners:
Air conditioners are commonly known as AC, A/C and air con by some peoples. It is a system which is used to cool down the hot temperature. Just buy removing moisture and heat existing in the room or inside spaces of your home. By "Willis Carrier" in 1902 the first modern air conditioning was invented. As these air conditioners work on a simple process that is it converts gas into liquid and two very quickly done, with the help of chemicals it removes the warm air from your room. In simple terms you can say that the air conditioning system controls humidity, air quality and temperature for your indoor spaces wherever it is placed or installed.
You can easily control your cooling system from anywhere, there is no need to sit in front of it and make changes in the temperature or anywhere you need. It's because of the manual air conditioning system. Not only this there are many advanced features available with latest models where you can set timers and many more things as per your requirements.
Types of Air Conditioners:
There are various types of air conditioner systems available in the market as per your requirements and budget you can have one for your place. For example you can consider it by size or usage. Let's check out some main types of air conditioning system for your usage.
Packaged Air Conditioning System
Central Air Conditioning System
Wall -Mounted Air Conditioning System
Window Air conditioner System
Difference Between Evaporative Air Coolers and Air Conditioners
The simple difference between evaporative Air coolers and air conditioners is that one uses water to cool your room and the other one uses a chemical process for cooling. If you want natural air then evaporative air coolers are the best.
Pricing is one of the reasons which has been taken into consideration before purchasing an air cooling system. As compared to evaporative air coolers, air conditioners are costly and need high maintenance. Performance of both evaporative air coolers and air conditioners is dependent on your usage. As both have numerous features and various updated models.
Evaporative Air Coolers V/S. Air Conditioners: Which one is Better?
Deciding which one is the best is quite tough but you can ask simple questions to yourself which will help you to choose the best for your place. Questions like:
Are you concerned about the environment?
Do you live in a humid climate?
Are you looking for portable options?
Are you looking for a featured system?
Do you just need the best cooling system with no budget plan?
Thinking about this question, you might get some clearance for your selection or purchase.
Final Words:
As per your usage you can decide your own cooling system that suits your placing/installing location, budget, and requirements. Each one either evaporative air cooler or air conditioner has their own merits and demerits. Now both have various options in features, model, durability, and some are designed as per your locations but the end moto is to give you a fresh and cool atmosphere.
With proper information and as per your requirements we at Evapoler will always suggest to you the best that fulfils your purpose of purchasing an air cooling system. Don't think much to contact us for more information. We will be glad to help you in making this decision easier.