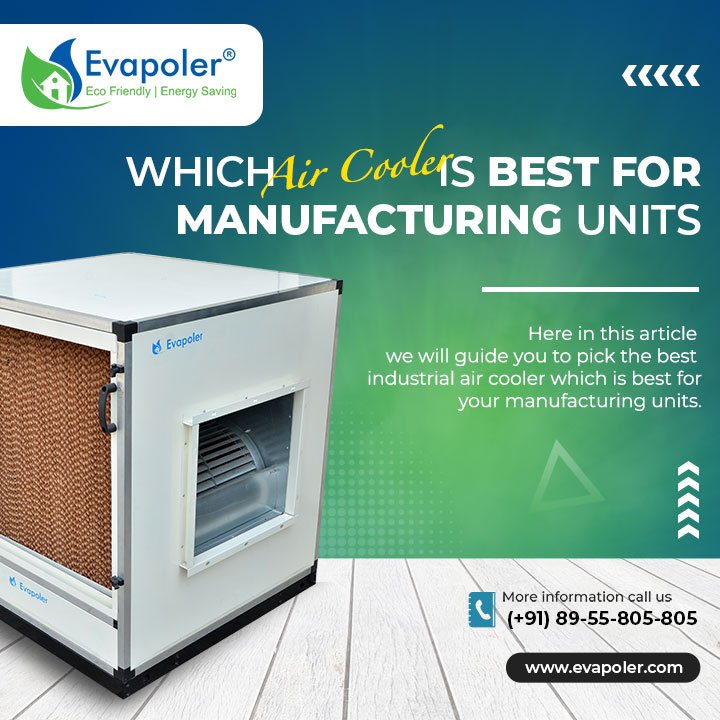 In India summers are becoming unbearably hot, due to which air cooling system is a must for everyone. The challenge is to find an air cooler which can maintain the suitable temperature especially at huge areas and for such huge areas industrial air coolers are the best because if the temperature rises too high then it becomes difficult to work. Also it creates an uncomfortable atmosphere at work, due to which productivity will suffer a lot. Many times this heat causes you problems like rashes, dehydration and stroke which is not healthy.
Generally employers used to invest in cooling systems like air coolers, electric fans and air conditioners which improves ventilation. While making a final decision they always check with pros and cons, varieties in models and majorly how cost-effective the product is after purchasing. Among all three cooling systems these air coolers are the excellent choice if you want to purchase cooling equipment especially for your manufacturing units. As these air coolers are cost effective and eco friendly.
Points to Consider Before Purchasing the Industrial Air Cooler
To beat this increasing temperature and blistering heat you can find various models of air coolers in the market. While selecting the right model there are some elements that you should check.
What the Seller is Offering:
Technology is developing day by day with the advanced features and appliances companies give you guarantee for the developed features. They also guide you about the specifications and advantages of a selected industrial air cooler which helps you to make decisions. There are a list of new design features to make the air cooler attractive, elegant and less bulky which results comfortably in usage and performance which will attract you a lot.
Are they Excellent in Providing Services:
It is necessary for every company to provide excellent after sale services. As everyone supports you before sales but only few give you after sale services or support. So choose wisely before making any decision, always select the one which provides you high quality and satisfied support for at least a year or two.
Does the Air Cooler Provides Purification in Air:
The basic function of an air cooler is purifying the air that is sucking the air from outside and with its evaporative principle converting it into the fresh,clean & colol air in the room. For the best experience, install an air cooler at a place which draws fresh air and provides you quality air inside the room. As for a huge place like a manufacturing unit you need to have fresh air to make the inner environment pleasant which motivates your workers to work and also keep them healthy.
Different Types of Air Coolers
The electric appliances are becoming advanced, efficient and more complex. But the goal is to develop pleasant, convenient and intelligent design. Due to which companies are developing designs that make their gadget more straight forward and seamless. So, the choice is tough as there are many featured air coolers in the market. Some best industrial air coolers which cools huge areas are:
Direct Evaporative Cooling
Window Ducting Air Cooler
Small Ductable Air Cooler
Ductless Air Cooling System
Indirect Evaporative Cooling
Industrial Ductable Cooler
Industrial Portable Cooler
Although you will get air coolers like industrial ductable cooler, portable coolers which are best for huge areas. But for warehouse, commercial kitchen, specific industrial spaces air washers are the best.
Which Industrial Air Cooler is Best for Manufacturing Unit
The answer for this will be the above options because every area needs a different air cooling system and every manufacturing unit needs a different type of air cooling system. As what you are manufacturing is also taken into consideration before purchasing. For the perfect one you can always ask for customization. Air coolers are the best in providing fresh air, they are cost effective and they are durable also. So, based on your requirement, area, budget and space you can choose one.
Final Words
During summer it is very difficult to leave and work without any cooling gadget. As there are the best affordable Industrial air coolers in the market which will come under your budget and provide you fresh, clean and cool air that motivates you to work for longer hours.
If you are still confused or want to know more about these Industrial air coolers then do visit us at evapoler.com or contact us for more information. We will help you out with the best air cooling system.