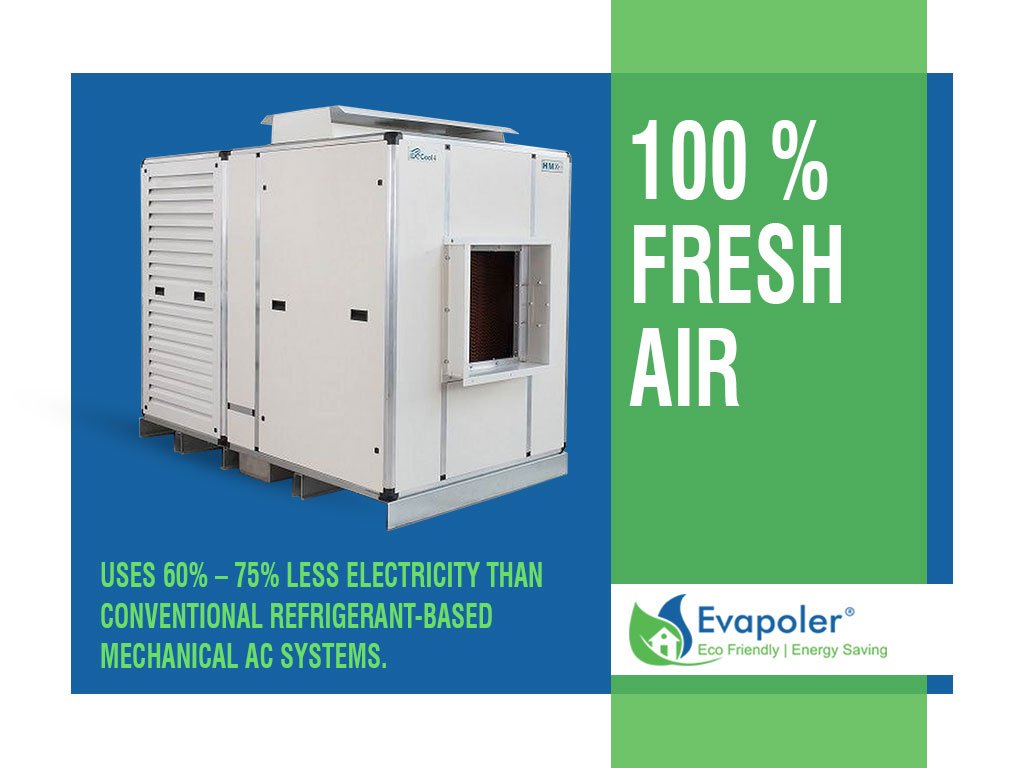 Are you looking for an evaporative air cooler which can help you with 100 percent fresh air? Well, you have certainly landed yourself on the right page. We are here to discuss about the technology which has made it possible for you to relish completely fresh and cool right at your own space.
Thinking how?
We are talking about indirect evaporative coolers! Yes, they are highly appreciated when it comes to helping one with air which has no pollutant for you to worry about. If you are thinking about how it is possible then, it is possible because of the hyper-efficient heat exchanger technology. It allows the respective machine to assist you with pollution-free air with better temperature drops compared to direct evaporative air cooling.
The fresh air delivered by the evaporative air cooler is healthy and no part of it is recycled. It thus ensures better indoor air quality. The temperatures match with the dew point which helps you with the best benefit of being energy efficient. You save up to 80 percent energy while using it for your needs.
Evaporative Air Cooler: Your Heat Sheild
With heat and temperature soaring outside, Evaporative coolers will never let you down! They will always help you avail fresh and cool air using the same amount of power. But, if you compare it with refrigerator systems, these air coolers are way more energy-efficient and yet help you get yourself protected from high temperatures.
So, there is no second thought when it comes to purchasing these machines. Not only it helps you with excellent service but also with cost-effective capabilities. In fact, as the temperature gets higher, they automatically change their performance so that you remain comfortable all the time.
Benefits of Indirect Evaporative Cooler
indirect-direct evaporative cooling (IDEC) also popularly known as "2-stage evaporative cooling", uses 60% – 75% less electricity than conventional refrigerant-based mechanical AC systems.
Due to their design, these systems are best suited for arid or semi-arid climates and can save lot of energy compared to Air Conditioning.
As stated above, cooling capabilities get better as and when the air temperature is soaring outside.
With this device, you will never have to worry about the pricing. It helps to be completely cost-effective.
The air they will be giving will have no moisture added to it. So, it will help you with the benefit of dry air cooling.
You can be assured that with the help of evaporative coolers you will be benefited with100% fresh air and better cooling upto 5 degree celsius less than Direct Evaporatvie Air Cooler..
This machine comes up with a wide product spectrum so that it can match application needs.
Schools, data centers, offices, clinics, warehouse/distribution centers and others can make great candidates for capturing the benefits of indirect Evaporative cooling.
It also comes with flexible engineering and design configurations which exclusively makes it convenient to customise to customer's individual needs.
So, these are the benefits of evaporative air coolers and how it is exclusively making a significant impact on one's life with a breath of fresh air. If you are thinking about getting one for your needs, connecting with Evapoler can help! We will always help you with the best of product range which can assist you to beat the heat with ease and keep you cool.