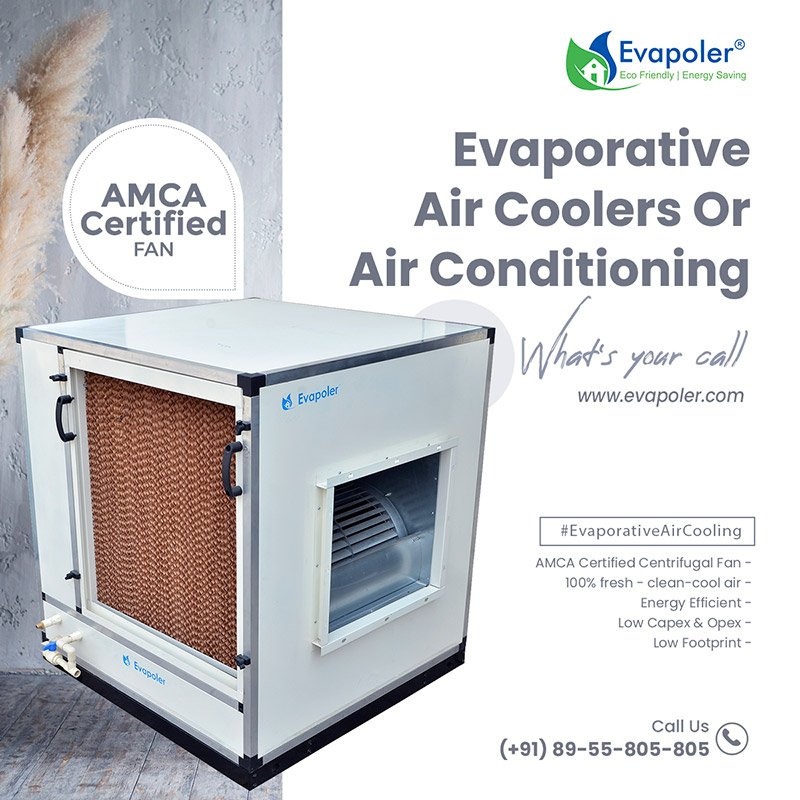 With time, the demand for evaporative air coolers is getting higher when compared to regular air conditioning systems. You might be thinking what is making people fall for your evaporative coolers ? You have certainly landed yourself on the right page.
We are here to help you with the reasons that will make it clear why evaporative air conditioning is just what you need! Yes, the natural methodology of evaporative air cooling is certainly giving corporate houses enough benefit to go for it. But, we will help you with a few of the stand out points that are making most of them to go for evaporative central air cooling systems over conventional systems, let's flow in:
Evaporative Air Cooler or Air Conditioning: Choose the Better
Firstly, when it comes to evaporative air cooling systems, they are following natural procedures to help you with the best solution. The evaporative air cooler is not using any kind of chemicals that can literally cause harm to the atmosphere. In fact, it is an eco-friendly way to keep your space cool for a long period of time. This means the air generated by the portable air coolers are safe and eco-friendly when compared to the conventional ones.
Secondly, when you compare Evaporative Ductable Cooler with the regular ones, it is way more cost-effective. Yes, with the help of evaporative air coolers, you will not have a lot of operational costs to worry about. As the amount of electricity used is very less, you might have to pay around 50 percent of the payment that you pay for that of your regular ones. These portable air coolers only use electricity to make sure that the fan units and pumps are running proficiently.
Thirdly, you will never have to worry about the kind of air they are generating. As conventional ones are using chemicals the air generated is not pure and can lead to health-related issues. But, when it comes to evaporative air coolers, it exclusively uses natural processes to generate air. You can be assured that the air you breathe is pure and enhances your health for sure. The filters in the system protect you from breathing in air filled with contaminants which  can cause a lot of harm to your body.
 Fourthly, it is a very important reason that takes these evaporative cooling systems ahead in the race. You will never have to stress about its maintenance at all. It is quite easy to maintain and all because of their simple design and mechanism. You can have their fan motor and water pump replaced with ease as and when required. The parts are not expensive at all and you can have it fixed all by yourself. So, there is no hurdle for you to worry about with evaporative air cooling systems in place.
So, these are the reasons that make evaporative air cooling systems the first choice for sure. When compared to conventional ones, it brings you a lot more benefits to play and help you and your business operations to keep running without any difficulty at all.