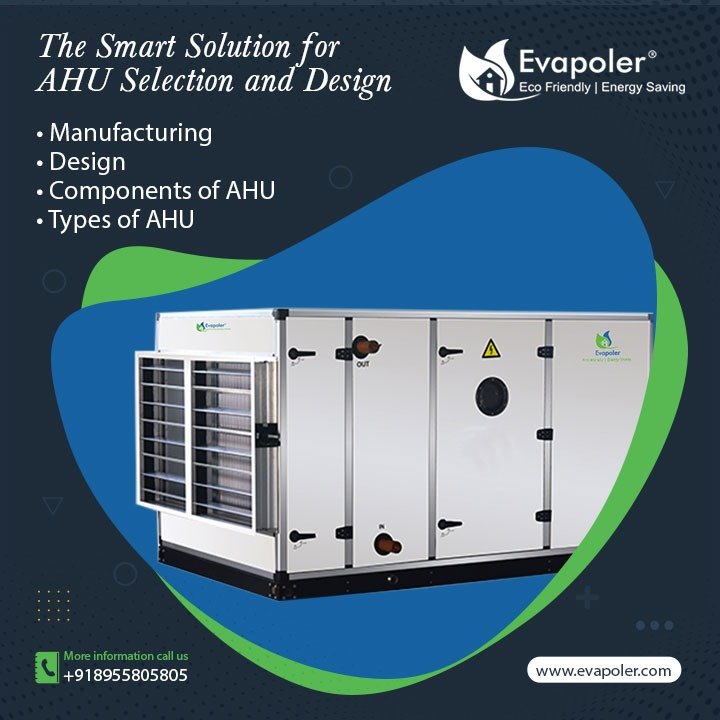 The Air Handling Unit is a great solution for circulating and regulating fresh air in an entire building. It is used for ventilation, cooling, heating, and air conditioning as well. This handler is an equipment that is made of metal, It holds a blower that works on requirements such as cooling and heating to maintain a comfortable and healthy environment in a building. It is mainly used in industrial buildings. AHUs are usually installed in basements or roofs. These are designed to make buildings better ventilated and to circulate fresh and good quality air.
There are various ranges and sizes of Air Handling Units (AHU) with capabilities but usually, it contains a blower, cooling components, heating components, and noise attenuators as well.
Air handling units are used to maintain temperature, air movement (ventilation), humidity and air quality, etc. The air handling unit basically takes air from the outside and supplies fresh and conditioned air in the building. Air can be cold or warm as per the requirements and weather.
Manufacturing
Several types of AHUs are manufactured by various companies all over the world like compact, vertical and horizontal, residential and integrated. Elements of an AHUs depend on the requirement and suitability of the building such as energy efficiency, size, and area.
The manufacturing of an AHU can be explained by individual manufacturing of all its unique components. It is not that simple for manufacturers exact and accurate components that can be added and deliver top-class performance.
Many air handling unit manufacturers modify and customize the design according to the requirements of a building. However, it still follows a good engineering approach and practices so that it may not lead to problems, and rectification can take additional cost and time.
Design
Many companies and their engineers are using designing softwares which are available in the market which saves time and helps in getting efficient solutions. Design of and AHU requires in-depth knowledge of atmosphere, mechanical as well as thermal studies, dust, etc.
There various software available in the market e.g. Swegon, Smart Air (Unilab), and many more. These applications help in not only designing, in fact users can do energy calculations to make sure the AHU is in making is going to meet expectations of design and as well as efficiency. These applications are also certified and used by many award winner manufacturers.
All the details provided by users are effectively stored and presented such as airflow and pressure. It gives accurate data for design to work upon. Some software companies also provide in-person handling support to users.
Each and every building is unique in its own way so there can not be a fixed size or type of air handling units, that's why AHU manufacturers are typically open to take suggestions and requirements from clients to give them the best they need. Companies usually send their representatives to first visit the location to get an idea of the area and building requirements so that engineers can make a design on the basis of the client's requirements.
Components of AHU
Air Filters – Filters are used to clean air and make a healthy and safe environment in the building. There are various filters used in AHUs e.g. HEPA filters, electrostatic filters, and carbon filters for removing bacteria, smells, and gases from the air.
Blowers and fans – These are used to circulate the air in the different areas of the building. These works upon the air pressure in the air handling unit.
Mixing Box – This is the location where the air is mixed and sent to the filters for conditioning. And later on, the fresh and conditioned air is circulated in the building.
Cooling/Heating Coils – These coils are used to maintain humidity in the air. Depends on the weather and humidity in the air.
Nowadays technology is playing a vital role in the usage of energy to follow an eco-friendly approach. Many manufactures also follow this great initiative and make sure that consumption of air handling units should be at its best capacity.
Types of AHU
There are two types of AHUs – known as draw through and blow through.
The draw-through air handling units can be vertical as well as horizontal in nature. This fan pulls the air through the mixing location, coils, and filters.
The blow-through air handling unit contains a fan that basically blows the air through the mixing location, filters, and cooling/heating coils before circulation.
Also, there are different sizes available depends upon the area and requirements.
There are many well-reputed companies in India and all over the world, using the best technologies and efficient approaches to give the best to their clients. These companies are not only focusing on a better lifestyle but also an eco-friendly environment. Three are companies in India making top-class air handling units e.g. Evapoler Eco Cooling
Evapoler is a Jaipur, Rajasthan-based company. They focus on eco-friendly and energy-efficient industrial air cooling solutions. They are a team of highly qualified and motivated leaders. Their expertise in work has helped them to get certifications awards as well.
Evapoler is also well known for meeting the custom requirements of clients in the best cost-effective way. They have given results in faster project completion and accurate finishing. Their services are not only limited to installation of air handling units in fact they have expertise in designing, service and repair, and maintenance as well.
Apart from AHUs, Evapoler also has a product line e.g. A wide range of Industrial Coolers, Residential coolers also commercial coolers, etc. They are well known for their after-sales services and support.
As a result of such hard work, experience, and expertise, Evapoler's clients are available all over India. They have given solutions to Industries, warehouses, institutes, hospitals, premium residents, resorts, restaurants, sports complexes, and temples, etc.
Some well-known clients are HDFC Bank, Asian Paints, Aqualite, Ajanta Dairy, Grasim (Aditya Birla Group), Oyo Hotels, Mahindra, Glenmark, Iskcon, JSW, JBM Group, Voltas and The Yellow Chilli, etc. Connect now!