Many a times we think of a situation in which we desire comfort at every moment of our life. In this fast moving world the comfort has taken a back seat and every single individual is expected to perform well regardless of the health which at some point is being severely compromised. People are switching on to field work where they have to confront dust and heat at all time which is deteriorating their physique. So they consistently look for a device or method which attenuates the boiling temperature of the body and rejuvenate mood of the person at the same time.
There are multiple cooling options such as cooler, AC, ducting that are available in the market and promises to give your body a cool and comforting cold breeze. There are no second thoughts about their efficiency and performance under adverse condition for which they are fabricated. But after a prolonged exposure you will start feeling dizzy and powerless under the aegis of these cooling devices. These devices give optimal performance under certain condition which has to be followed every time you turn ON these cooling machine. Flouting rules results in undesirable and unwanted effect on your body which give way to many ailments ultimately creating ruckus in the house.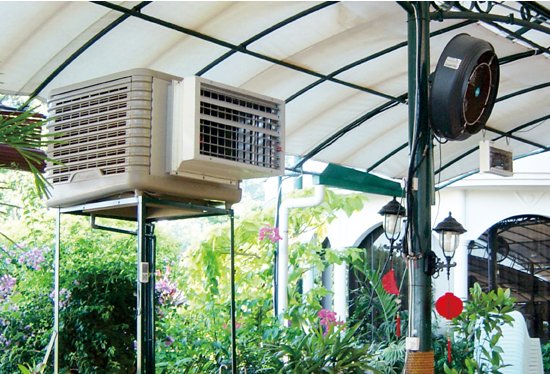 These devices are made to give temporary blissfulness to its owner as these piece of machinery is equipped with artificial air components which are pre-installed in them. Moreover, they are fully functional only in closed compartments and rooms making no space for cross ventilation. After certain period of time when your body gets fully acclimatized to the artificial ambiance manufactured by these devices, you will witness a significant change in your skin texture and breathing rhythm which in some cases become incurable giving health trauma to many AC owners.
On the contrary there are some eco-friendly cooling gadgets which are more refined and health oriented. These Industrial evaporative cooler are no less than wonder devices and doesn't compromise with air quality. The biggest advantage of these coolers is that it uses natural atmospheric air to convert into pure air breeze. You don't have of close your windows and doors to start these coolers as these majestic automated machines give cool blast of air in open environment too. These coolers are easy to install and requires little maintenance even after being functional for a long time. If you want to move your eco-friendly cooler to a lawn or your garden just to get the aura of your flowering place you can do it with ease as these portable devices work relentlessly anywhere and everywhere you place them.